Hello Everyone,
How's your summer going?
For us is thankfully full of work, commitments, meetings with athletes and also some good results.
Last weeks have been very intense for us, we had Demo days first and then busy in Campione sul Garda for Wing Foil Racing World Tour.
We presented a New Starbuster Race Board and we had a really good feedback from almost all the riders of the World Cup. Unfortunately in 4 days of competition, there were only 2 days of wind.
Our team riders Alessandro Tomasi and Margherita Barro gaves all the best and we are very happy.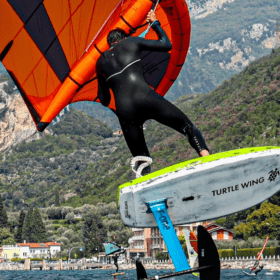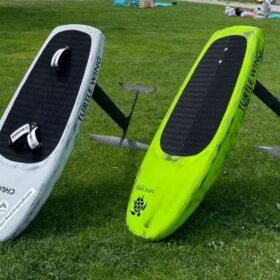 What's next?
We are keep working for complete the New 2024 Line with some new boards.
We tested all the new boards and we have enriched the new collection with improvements and advises also given by you too.
The New collection 2024 will be available for delivery on the first week of August. The pre-order will be open on 1st July 2023.
What news will there be?
Our Carve Pro V3 will be replaced with the Carve Pro V4, where many small details have been changed, but, we left to our best selling the lightness and strength that always distinguished this model.
– The volume will be: 73L – 83L – 93L – 103L – 109L
– The Carve Mini Pro V3 will be divided in two different boards line with a Carve Mini Pro V4 and the new Carve Mini Pro XL
– For the Mini ones The volume will be 46L | 50L | 54L | 58L | 63L | 68L| 73L | 78L and the
board get some small updates in term of scoop rocker line.
– The Carve Mini XL it's a brand new model for riders that likes narrows board but with some length the volume will be 82L | 87 | 92L | 97L | 102L.
Our boards line will complete with the Moto (wing sup board) and the Skate (Pump Board)
Also the Air Flow  has been updated with some significantly improves in term of stability.
In the next weeks, our website will be down for few hours to upgrades all the new collection 2024
That's it for now.
Keep in touch in the next weeks and follow us on Instagram to catch all the news.
Have a nice Sunday!